Author: US DOE Staff       Published: 1/13/22       SETO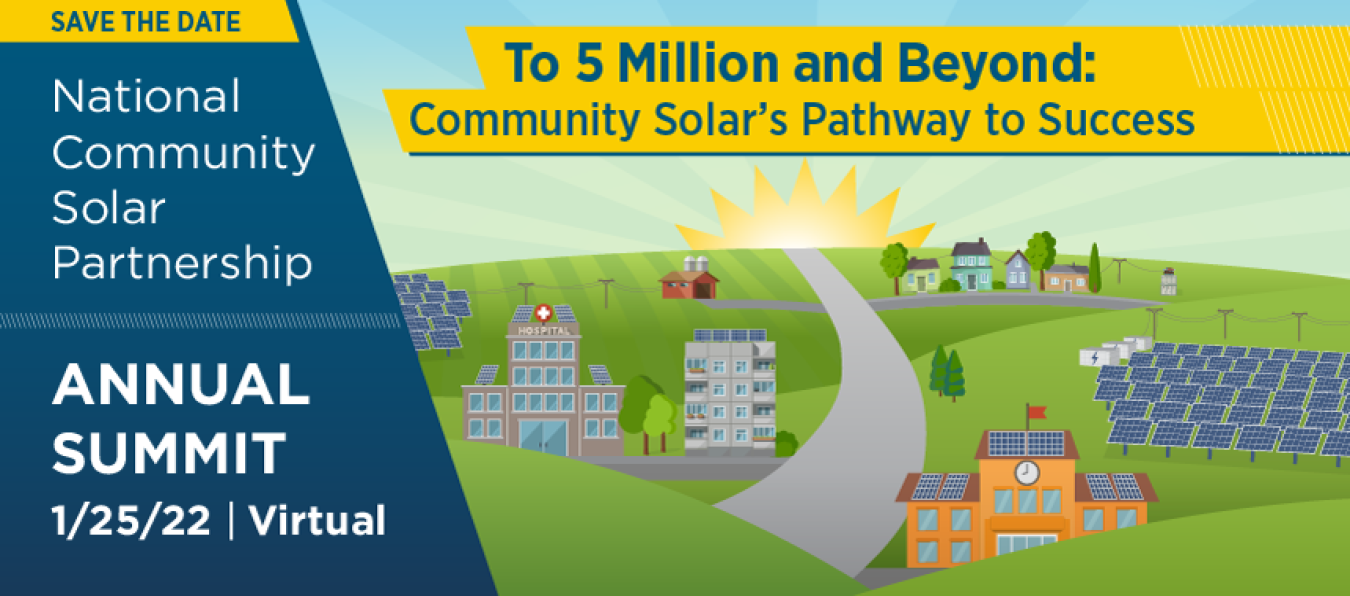 The U.S. Department of Energy (DOE) Solar Energy Technologies Office (SETO) is hosting the second National Community Solar Partnership Annual Summit on January 25th, 2022.
This year's summit theme, 'To 5 Million and Beyond: Community Solar's Pathway to Success,' reflects National Community Solar Partnership's new target goal to power the equivalent of 5 million households with community solar by 2025, realizing $1 billion in energy bill savings for subscribers. Through stakeholder feedback and market analysis, the Partnership has developed a roadmap to address persistent barriers affecting equitable access to community solar across the country.
At the Annual Summit in January 2022, NCSP and DOE leadership will discuss the plan to reach this new goal – what achieving it will mean for the community solar industry, and why, with the support of our growing community, we are confident we can reach it.
Agenda
Time
Session Title
Speaker(s)
11:00 a.m. – 11:10 a.m.
Welcome Address
Principal Deputy Asst. Secretary Kelly Speakes-Backman, U.S. Department of Energy
11:10 a.m. – 11:50 a.m.
National Community Solar Partnership Target and Modeling Pathway to Success
Moderator: Nicole Steele, U.S. Department of Energy
Roundtable Guests:
Jenny Heeter, National Renewable Energy Laboratory
Dave Feldman, National Renewable Energy Laboratory
Ammar Qusaibaty, U.S. Department of Energy
11:50 a.m. – 11:55 a.m.
Break
11:55 a.m. – 12:15 p.m.
Keynote Address
TBA
12:15 p.m. – 1:00 p.m.
State Engagement Roundtable
TBA
1:00 p.m. – 1:15 p.m
Lunch Break
1:15 p.m. – 2:15 p.m.
Access to Financing Roundtable
Moderator: Jahi Wise, Senior Advisor for Climate Policy and Finance, White House Office of Domestic Climate Policy
Roundtable Guests:
Eric Hangen, University of New Hampshire's Carsey School of Public Policy;
Michelle Moore, Groundswell;
Victor Rojas, Sustainable Capital Advisors
2:15 p.m. – 3:00 p.m.
Technical Expertise and Capacity Building Roundtable
Roundtable Guests:
Ajulo E. Otho, Esq., Enerwealth Solutions;
Sandy Fazeli, National Association of State Energy Officials;
Travis Neal, Orcas Power and Light Cooperative;
Lauren Westmoreland, Stewards for Affordable Housing
3:00p.m. – 3:05 p.m.
Break
3:05p.m. – 3:50 p.m.
Messaging and Recognition Roundtable
Moderator: Katherine Hamilton, Chair, 38 North Solutions
Roundtable Guests:
Zaid Ashai, Nexamp;
Kiran Bhatraju, Arcadia;
Julia Hamm, Smart Electric Power Alliance;
Kristal Hansley, WeSolar
3:50 p.m. – 4:00 p.m.
Partner Commitments and Next Steps
Nicole Steele, U.S. Department of Energy
For regular event updates and access to exclusive National Community Solar Partnership resources and opportunities, register to join the Partnership today. Membership in the National Community Solar Partnership is free and open to any community solar stakeholder located or doing business in the U.S.
If you have any additional questions, please reach out to communitysolar@ee.doe.gov for more information.