Author: DSLBD Staff      Published: 5/11/2022     Department of Small and Local Business Development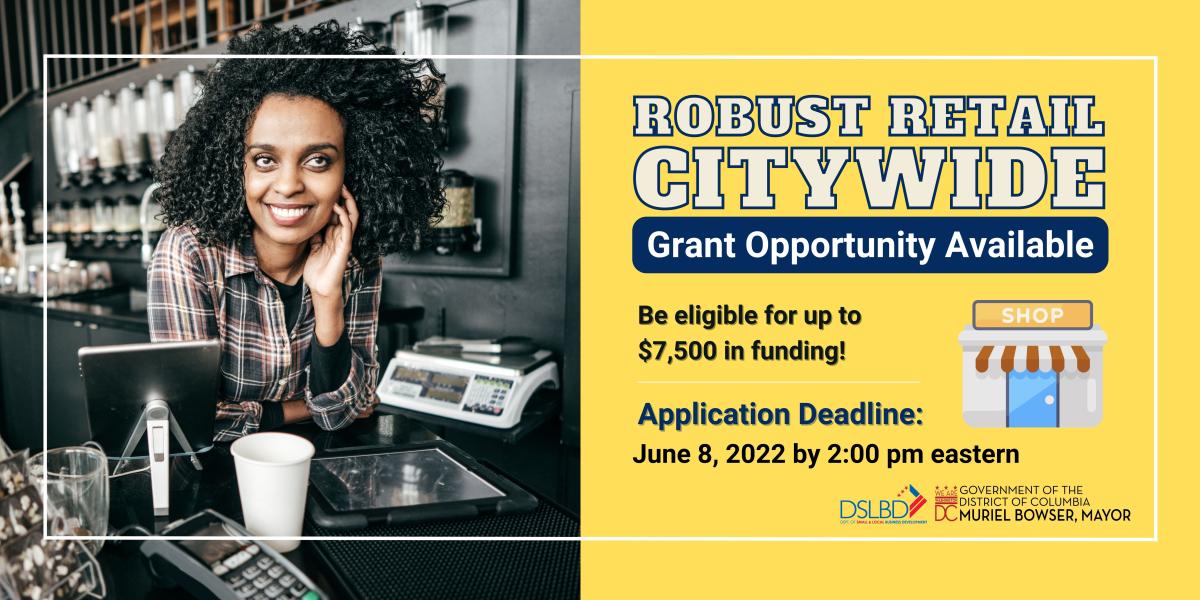 The Department of Small and Local Business Development (DSLBD) is excited to announce that we will be accepting applications for the 2022 Robust Retail Citywide Grants.
A robust retail sector is critical to maintaining the vibrancy of DC neighborhoods, but due to market realities of the past years, retail businesses are under threat of business decline and closure. The 2022 Robust Retail Citywide grant(s) support existing DC-based retail businesses in maintaining operations and viability during the current small business crisis. DSLBD intends to award up to $7,500 per business to approximately 78 businesses from the $588,000 in available funding for the Fiscal Year 2022.
This grant will be operated as a reimbursement grant, awarded via lottery, to DC retail businesses that have met all eligibility requirements by the final deadline. Businesses that received a Robust Retail Citywide award in FY2021 are not eligible to apply.
Who Can Apply?
Only for-profit consumer-facing, small and independent retail businesses with fewer than 25 full-time employees (FTEs) with a licensed retail location in DC are eligible for Robust Retail Citywide Grants. Home-based, online-only, and non-profit businesses are not eligible for this grant opportunity. Applicants must be compliant with the Office of Tax & Revenue's Clean Hands requirements, be licensed as a retail business in the District, and be actively operating during the Fiscal year 2022.
How Do I Apply?
All instructions are included in the formal "Request for Applications" (RFA) available for download on DSLBD's website on or before April 25, 2022. Applicants are encouraged to read the full Request for Applications.
Questions?
We will hold online, virtual information sessions. Applicants are highly encouraged to attend a virtual information session. Details on information sessions can be found on the Eventbrite page using the following link:  http://bit.ly/DSLBDeventbrite.
Final Deadline The absolute final deadline to apply online is June 8, 2022, at 2:00 p.m. eastern, no exceptions. Applications will only be accepted through the online application system listed in the Request for Applications (RFA) on DSLBD's website.
Click here to view the RFA (Updated May 2, 2022)