Author: Talib Karim           3/30/2021             Steam4US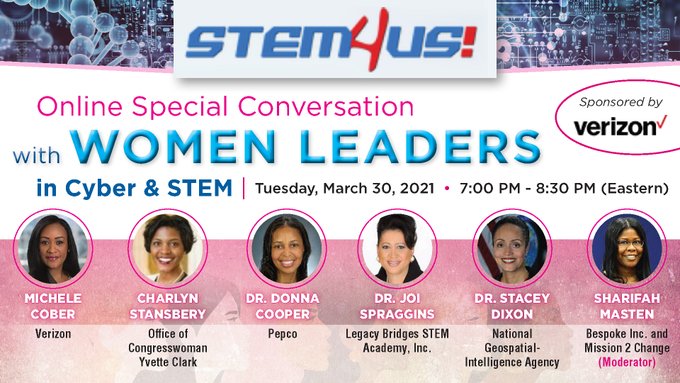 Copy and paste link: https://video.search.yahoo.com/yhs/search;_ylt=AwrEeR5g9mRgJkIANAIPxQt.;_ylu=Y29sbwNiZjEEcG9zAzEEdnRpZAMEc2VjA3Nj?p=STEM4US&type=ddpr_9100_
Ronald,
STEM4US! and our network of over 10,000 parents, educators, and professionals, invite you to a Special Online Conversation with Women Leaders in Cyber & STEM.
When: Tuesday, March 30, 2021, 7PM-8:30 PM (Eastern)
Dont miss this unique opportunity.  Tune in to learn, get inspired, and share your questions and comments.
Get set to enjoy this historic conversation with women on what its like to lead Cyber & STEM organizations in business, government and education during the Biden-Harris era.
Talib I. Karim, Esq. – STEM4US! CEO
STEM4US! 2020-2021 Partners

Verizon
David Ownes
Abe
Legacy Bridges STEM Academy, Inc.
Cyber Training Group International LLC/JacoTravel LLC
National African American Drug Policy Coalition
Brooks & Associates Global Learning Services, LLC
The McCain Group LLC
Mission 2 Change
Col. Walter Ingram, USAF
Stan Bennet
Daryl Horton
Ernest Stewart
Jeffory Harrison
James Kerr
Margret Tyus
Andrew Holloway

African Housing Equity Fund
American Association of Blacks in Energy
Davis Dance Studio
Digitize Learning
Hon. Martavious Jones, Memphis City Council
Kappa Alpha Psi Fraternity, Inc. Eastern Province
Kappa Alpha Psi Fraternity, Inc. Hyattsville/Landover (MD) Alumni Chapter
Fatima Iqbal-Zubair
Perry Paylor, Deputy State's Attorney for Prince George's County
National Coalition on Black Civic Participation
Dr. Nicole Cranston
Jesse Wimbish