Author: US DOE  SETO Staff           Published:  1.19.22                SETO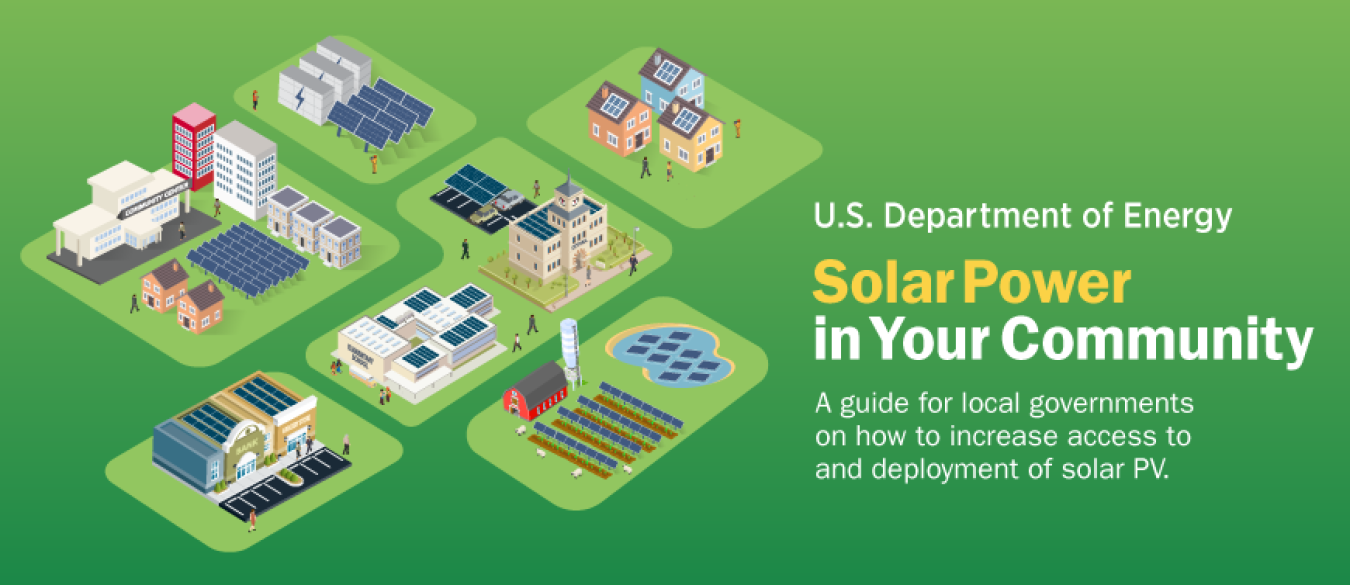 The U.S. Department of Energy (DOE) Solar Energy Technologies Office (SETO) designed this guide to assist local government officials and stakeholders in boosting solar deployment. The content is based on the Solar Power in Your Community guidebook, updated in 2022, which contains case studies with approaches to reduce market barriers that have been field tested in cities and counties around the country. Many examples are the direct result of SolSmart, a national designation program that recognized municipalities, counties, and regional organizations that are addressing market barriers and making it faster, easier, and more affordable to go solar.
Solar Power in Your Community serves as a guidebook to assist local government officials and stakeholders in increasing local access to and deployment of solar photovoltaics (PV). This 2022 edition highlights new technologies and strategies to maximize the benefits of solar to all communities. It also emphasizes strategies for improving the equity of solar deployment at the local level. Similar to previous iterations of the guidebook, the 2022 edition offers an in-depth introduction of each topic, case studies of real-world applications, and supplemental resources, including reports, references, tools, and a state and federal policy guide.
HOW CAN I HELP MY COMMUNITY DEVELOP A SOLAR DEPLOYMENT PLAN?
WHO SHOULD BE INVOLVED IN DEVELOPING A SOLAR DEPLOYMENT PLAN?
WHAT SHOULD MY COMMUNITY CONSIDER WHEN SETTING LOCAL SOLAR TARGETS?
WHAT ACTIONS CAN MY COMMUNITY TAKE TO ENSURE EQUITY IN THE LOCAL SOLAR MARKET?
WHAT KINDS OF TECHNICAL ASSISTANCE OR OTHER RESOURCES ARE AVAILABLE TO HELP MY COMMUNITY IMPLEMENT A LOCAL SOLAR PLAN?
CAN SOLAR PLAY A ROLE IN MY COMMUNITY'S RESILIENCE, SUSTAINABILITY, AND CLIMATE PLANNING?
WHAT KINDS OF PROGRAMS CAN MY COMMUNITY IMPLEMENT TO MAKE SOLAR AVAILABLE TO MORE HOUSEHOLDS, BUSINESSES, AND NONPROFITS?
HOW CAN WE ENABLE COMMUNITY SOLAR PROJECTS?
HOW CAN UPDATING LOCAL POLICIES IN MY COMMUNITY HELP REDUCE INSTALLATION COSTS AND IMPROVE THE MARKET ENVIRONMENT FOR SOLAR?
HOW CAN I SPEED UP SOLAR PERMITTING?
WHAT ARE THE BENEFITS OF INNOVATIVE SITING PRACTICES, LIKE FLOATOVOLTAICS, AGRIVOLTAICS, OR SOLAR ON BROWNFIELDS?
CAN MY COMMUNITY INSTALL SOLAR ON GOVERNMENT BUILDINGS OR LAND?
HOW CAN MY COMMUNITY DEVELOP INCLUSIVE SOLAR-RELATED OUTREACH MATERIALS FOR COMMUNITY MEMBERS?
HOW CAN MY COMMUNITY CREATE MORE JOBS AND PREPARE OUR RESIDENTS TO WORK IN SOLAR?
Featured Case Studies
Each topic area covered in the 2022 Solar Power in Your Community guidebook highlights real-world applications from a wide range of communities that have successfully implemented the policy, program, or concept. Read some of the highlighted case studies here.