Author: US DOE  LPO Staff    Published: 4/20/2023 LOAN PROGRAMS OFFICE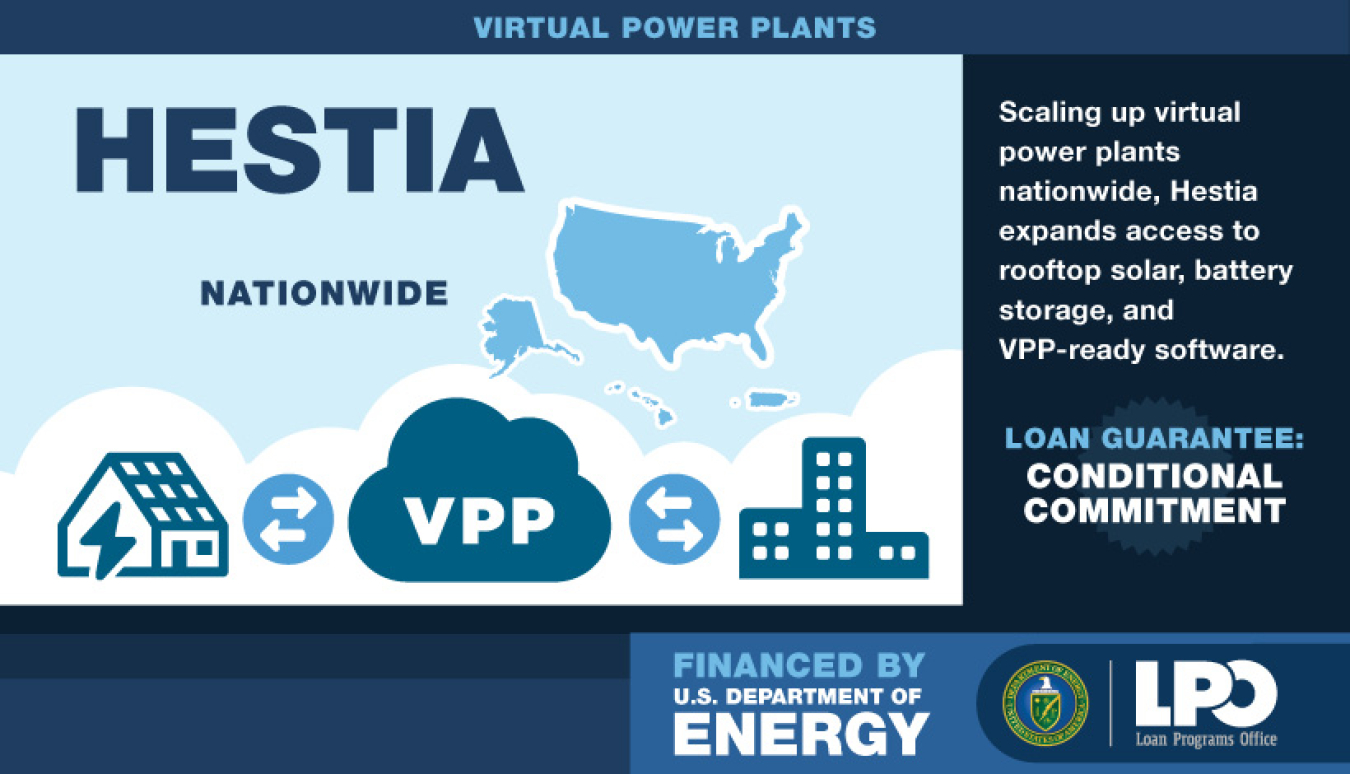 LPO Offers First Conditional Commitment for a Virtual Power Plant to Sunnova's Project Hestia to Support Grid Reliability and Expand Clean Energy Access
Reliability and Expand Clean Energy Access
The U.S. Department of Energy (DOE) Loan Programs Office (LPO) today announced a conditional commitment to Sunnova Energy Corporation's Project Hestia for an up to $3 billion partial loan guarantee to make distributed energy resources (DERs), including rooftop solar, battery storage, and virtual power plant (VPP)-ready software available to more American homeowners. Project Hestia is expected to prioritize a focus on households in disadvantaged communities across the United States, including Puerto Rico, as well as homeowners with lower credit ratings. If finalized, the partial loan guarantee would enable Sunnova, a leading Energy as a Service provider, to provide loans for clean energy systems for approximately 75,000 to 115,000 homeowners throughout the United States, including its territories.
Over the next 25 years, the approximately 568 MW project, comprised of solar installations, battery systems, and smart software to reduce energy waste, is expected to avoid an estimated 7.1 million tonnes of carbon dioxide over the 25-year life of the project. That's equivalent to eliminating carbon emissions from 1.5 million vehicles on the nation's roads. If finalized, the project is estimated to create over 3,400 American jobs.
Increased access to clean distributed generation and VPPs will strengthen the U.S. power system, improve energy security, and play a vital role in supporting the Biden-Harris administration's Justice40 Initiative to ensure that every community benefits from the clean energy transition. VPPs will also be critical for achieving the president's goals of a carbon-free grid by 2035 and a carbon-free economy by 2050.
The conditional commitment for Project Hestia reflects LPO's intent to support its first VPP project. VPPs are aggregated grid-connected DERs such as photovoltaics (PV), battery storage systems, electric vehicles, and flexible end uses combined with communications and control software. Coupling aggregated DERs with smart software can create a powerful collective tool—a "virtual power plant"—to deliver affordable power and support grid reliability and decarbonization in an increasingly electrified world.
Sunnova will offer homeowners innovative software to accompany the PV and batteries and support demand flexibility. The software will give customers insight into their household's energy usage and greenhouse gas emissions, allowing customers to reduce electricity use—or even contribute electricity to the system in markets that allow such contributions—when the grid is under stress. Demand flexibility can improve grid reliability and help lower energy prices for customers, including, importantly, in energy-burdened communities.
In support of Justice40, the project would actively seek to increase customer origination in communities identified by DOE as disadvantaged with a focus on communities with high energy burden, outage duration and events, and climate hazards.
Rooftop solar has reached commercial market acceptance, with lenders comfortable providing commercial debt to PV projects backed by well-capitalized sponsors. But not all homeowners can access affordable clean energy debt financing. In particular, customers with lower credit ratings are typically unable to secure financing for such systems. This partial loan guarantee is expected to enable Sunnova's dealer network to better serve this market.
As of September 30, 2022, Sunnova served approximately 250,000 customers across the United States, 14% of whom had added battery storage to their solar systems. With the partial loan guarantee to Project Hestia, Sunnova can expand into more markets, including to homeowners with low credit scores and those facing high energy burdens. Sunnova is targeting at least 20% of Project Hestia loans to assist customers with credit scores of 680 FICO or less. In addition, Sunnova anticipates 30% of Project Hestia customers will have batteries included with their system, doubling Sunnova's battery system footprint fleetwide based on a September 2022 baseline.
Sunnova also seeks to provide loans to homeowners in energy-burdened communities. Sunnova will aim to provide up to 20% of Project Hestia loans to homeowners in Puerto Rico. All installations in Puerto Rico will include both solar and battery storage. The island has a history of severe weather events which have resulted in frequent and sustained power outages. Rooftop solar-plus-storage systems have demonstrated their ability to provide power to homes during severe weather events, often when grid infrastructure on the island is damaged. DOE recently released its PR100 report, which details possible pathways to 100% clean energy in Puerto Rico.
The conditional commitment was announced in conjunction with the Department's Solar Energy Technologies Office's (SETO) 2022 Sunny Awards winners. An additional slate of solar announcements made by Secretary Granholm include the 25 competitors for DOE's Community Power Accelerator Prize and $52 million in selections for solar research and development projects.
Collectively, these announcements from LPO and SETO highlight the many ways DOE is expanding access to solar power across America.
LPO is offering the conditional commitment through the Title 17 Innovative Energy Loan Guarantee Program. Just as Title 17 catalyzed the deployment of commercial-scale solar PV in the United States more than a decade ago, the program can accelerate the nascent VPP sector for market acceptance in support of the Biden-Harris administration's clean energy goals.
While this conditional commitment demonstrates LPO's intent to issue a partial guarantee for the project, several steps remain for the project to reach critical milestones, and certain conditions must be satisfied before the Department issues a final partial loan guarantee, including finalization of definitive financing documents.
Deployment of VPPs is an important step toward increased grid reliability and lower costs for American consumers. Learn more about VPPs, including their potential role in the clean energy transition, their ability to lend to demand flexibility, the role of solar and storage in VPPs, and market barriers that they must overcome.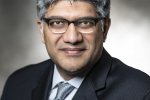 Director of the Loan Programs Office