Author: Solar Energy Technologies Office             Published: 8/4/2020                     SETO
The U.S. Department of Energy Solar Energy Technologies Office (SETO) is hiring a full-time management and program analyst to serve as the National Community Solar Partnership program lead.This role is a federal supervisory position at the GS-14 level.
Responsibilities include managing complex, multi-partner technical assistance programs; coordinating a team of solar energy technical experts to plan and carry out these programs; developing concepts for new programs and funding mechanisms aimed at reducing the non-hardware, or soft, costs of solar; and more.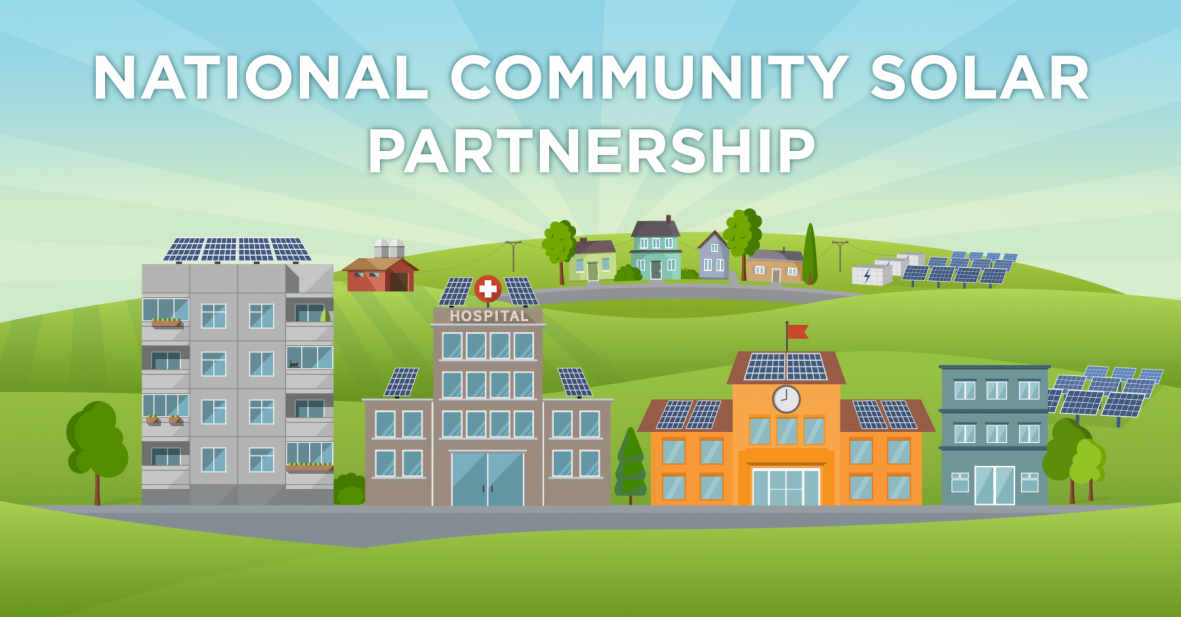 The National Community Solar Partnership™ (NCSP) is a coalition of community solar stakeholders working to expand access to affordable community solar to every American household by 2025. Partners leverage peer networks and technical assistance resources to set goals and work to overcome persistent barriers to expanding community solar access to underserved communities. DOE announced the program on Wednesday, September 25, 2019.
Objectives
The three goals of the partnership are:
Make community solar accessible to every U.S. household
Ensure community solar is affordable for every U.S. household
Enable communities to realize supplementary benefits and other value streams from community solar installations
Approach
To meet these goals, NCSP provides an array of national and local stakeholders — state, local, and tribal governments, utilities, businesses, nonprofit organizations, and others — the tools and information they need to design and implement successful community solar models. The partnership will provide these through three major activities:
Network Infrastructure: Partners have access to an online community platform, virtual and in-person meetings, webinars and other tools to engage with U.S. Department of Energy (DOE) staff and each other.
Technical Assistance: Partners have access to technical assistance resources from DOE, its National Laboratories, and independent third-party subject-matter experts for support on unique local challenges.
Collaboration: Structured groups of partners, called collaboratives, form around specific goals to address common barriers to solar adoption by learning from each other and sharing resources.
List of Partners
Partners as of July 9, 2020 (click to expand)
Upcoming Webinars
There are currently no upcoming webinars.
Technical Assistance
The application deadline for the first round of Technical Assistance Applications was Friday, May 29, 2020 at 11:59 p.m. ET and is now closed. To apply for future technical assistance opportunities, you must first join the partnership by registering with the community platform. Application instructions can be found on the community platform, and more details about the opportunity can be found in the technical assistance webinar slide deck.
Collaboratives
Collaboratives are a group of similar organizations working to advance community solar in a particular market segment. Collaborative members set community solar goals, learn from their peers, and receive technical assistance over two years as they work to achieve their goals and create replicable solutions. DOE will launch new collaboratives in the future based on NCSP partner interest.
MUNICIPAL UTILITY COLLABORATIVE
The Municipal Utility Collaborative seeks to demonstrate replicable models for solar energy deployment that offer low or no-fee subscriptions and result in energy bill savings for low-income residents. Download the Municipal Utility Collaborative fact sheet.
Members: Austin Energ, BrightRidge, City of Colton Electric Utility, Seattle City Light, Snohomish County Public Utility District Number One, Town of Marblehead Municipal Light Department
MULTIFAMILY AFFORDABLE HOUSING COLLABORATIVE
The Multifamily Affordable Housing Collaborative seeks to demonstrate replicable models for solar energy deployment that reduce resident's monthly electric utility bills by at least 10 percent. Download the Multifamily Affordable Housing Collaborative fact sheet.
Members: Boulder Housing Partners, City of Boulder, Denver Housing Authority, Fifth Avenue Committee Solar, Meriden Housing Authority, National Church Residences, New York City Housing Authority, Preservation of Affordable Housing, Seattle Housing Authority, Wesley Living
NCSP Resources
Background
COMMUNITY SOLAR
The U.S. Department of Energy broadly defines community solar to include any solar project or purchasing program, within a geographic area, in which the benefits flow to multiple participants (individuals, businesses, nonprofits, etc.). According to analysis by the DOE National Renewable Energy Laboratory (NREL), nearly 50% of households and businesses are unable to host rooftop solar systems. Expanding access to community solar options helps connect more Americans with clean energy for the first time. Community solar allows renters, tenants, and residents to access solar energy regardless of where they live or the suitability of their rooftop. This allows more people to offset monthly energy bills while increasing their community's resiliency, enhancing workforce opportunities, and spurring economic development.
EXPANDING ACCESS TO SOLAR
Certain underserved markets, including low- and moderate-income (LMI) populations, nonprofit organizations, and other community-serving entities, such as municipal governments, still face significant barriers to affordable solar deployment. A report from NREL that analyzed the recently competed Solar in Your Community Challenge identified three main takeaways from the challenge:
Clearly understand how federal, state, and local policies enable local solar projects.
Build durable and long-term partnerships with community members and solar stakeholders.
Develop a creative portfolio of financing solutions for small- and medium-size solar projects.
NCSP builds on the successes of the Solar in Your Community Challenge to support the replication of new and existing community solar models by partnering with diverse stakeholders across the country that are interested in expanding affordable access to solar. Learn more about the origins of NCSP here.
Additional Resources
Solar in Your Community Challenge – This webpage contains resources assembled during the Solar in Your Community Challenge on issues like project development, customer acquisition, financing, permitting and interconnection, system design, and low- and moderate-income participation.
Community Solar – This webpage has the latest information from NREL about community solar, including links to recent reports.
Up to the Challenge: Communities Deploy Solar in Underserved Markets – This NREL report describes the Solar in Your Community Challenge and the top technical challenges the participating teams faced, and outlines some key takeaways.
Solar For All Data Explorer – This is a web application from NREL to help LMI rooftop solar technical potential at the tract level, including overlays for opportunity zones and other geospatial datasets.
Clean Energy for Low-Income Communities Accelerator (CELICA) – The U.S. Department of Energy's CELICA toolkit provides an overview of tools, resources, and models for developing low-income energy efficiency and renewable energy programs, including community solar. The information is based on CELICA's two-year partnership with over 30 stakeholders from the public, private, and nonprofit sectors.
Low-income Energy Affordability Data (LEAD) Tool – This is a web application, developed by the U.S. Department of Energy, to help make data-driven decisions on energy goals and program planning by improving understanding LMI household energy characteristics.
Solar Savings to Investment Ratio (SIR) – This is a simple comparison spreadsheet tool, developed by NREL, that facilitates the calculation of the Savings to Investment Ratio, a metric used to measure the ability of a technology to recover the investment costs through savings achieved from customer utility-bill cost reduction.
Design and Implementation of Community Solar Programs for Low- and Moderate-Income Customers – This report draws on the experience of LMI solar developers and state LMI solar programs to gain insights into the successes and barriers of deploying community solar programs.
Modeling the Cost of LMI Community Solar Participation: Preliminary Results – This report seeks to understand the level of incentives needed to drive LMI customer participation in community solar.
Low-Income Community Solar: Utility Return Considerations for Electric Cooperatives – This report identifies project structures that make low-income community solar projects more cost-effective, replicable, and scalable for electric cooperative and municipal utilities.
Focusing the Sun: State Considerations for Designing Community Solar Policy – This report summarizes outcomes from the NCSP State Best Practices working group by identifying key differences in state policies that enable community solar and illustrating how various policy design approaches may impact the market.