Author: Ronald Bethea : Weekly Black – Board  Published: 8/13/19 Positivechangepc.com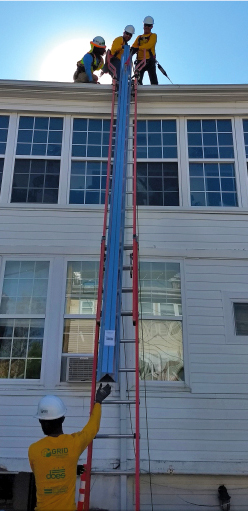 https://www.indeed.com/jobs?q=solar%20energy&l=Takoma%20Park%2C%20MD%2020912&vjk=81e4860c55d6eda0
Solar Energy Specialist – $4,250 Training Bonuses
Vivint Solar416 reviews – Beltsville, MD 20705
Email: Marketing @VinintSolar.com
$90,000 – $110,000 a year – Full-time, Commission
Responded to 51%-74% of applications in the past 30 days, typically within 2 days.
Apply NowSave this job
This opportunity will change your life, change others' lives and change the world. Our top Entry Level Solar Energy Specialists are on track to earn $110,000+ a year.
Solar Energy Specialist – $4,250 Training Bonuses
We are one of the largest solar installation companies in the nation, in one of the fastest growing industries. We're looking for motivated, talented people to help us create a greener planet and achieve our goals.
You will you have the opportunity to work with amazing people; change others' lives, change the world and make an unlimited amount of money while doing it!
We not only offer the resources and training to help you kick start a lucrative 6-figure career but also opportunities for performance-based non-monetary rewards, such as luxury vacations, high-end electronics, gift cards, and tickets to concerts and sporting events. The income potential for this position is uncapped and only limited by your desire and effort.
WHAT YOU'LL DO…CREATE YOUR BUSINESS
Become an expert in renewable energy and smart home products and their benefits to the consumer.
Help families save money through our consumer-focused sales practice.
Close contracts confidently with new homes and families while gaining outside business development.
Interface with decision makers on a daily basis.
Participate in on-going training camps with a focus on team building and mentorship.
As a full-time commission based rep, you will be fully trained on all Vivint Solar programs with ongoing career development support. This position is a gateway to several other opportunities at Vivint Solar.
Sales experience is a plus, but not required. We fully train! If you are motivated and have an outstanding personality, we want you at our next training day. Get involved by applying now and set your career path in one the fastest growing markets – renewable smart energy!
YOU'LL KNOW YOU'RE READY IF YOU…KNOW YOUR WHY
Have a strong sense of ambition, self-motivation and self-discipline.
Are a resourceful problem solver.
Are open-minded with a passion for learning a wide-range of skills that will carry through a variety of career paths.
Are naturally outgoing and articulate individual who thrives in social settings.
Have a desire to mentor other colleagues after refining your skill set.
Are willing to maintain the highest level of sales ethics and integrity.
Vivint Solar, an equal opportunity employer, does not consider any protected traits (e.g. race, creed, color, religion, gender, national origin, non-job-related disability, age, or any other protected trait) when hiring under federal, 
2. https://www.indeed.com/jobs?q=solar%20energy&l=Takoma%20Park%2C%20MD%2020912&vjk=1dd6490971b2849e
Project Manager, SolSmart Program
The Solar Foundation – Washington, DC 20005 (Logan Circle area)
$50,000 – $65,000 a year
Apply Now
Now Hiring: Project Manager, SolSmart Program
Are you passionate about accelerating the adoption of solar energy, the world's most abundant energy source? SolSmart is a national program that works with local governments on programs and practices to encourage solar energy growth. One in five Americans currently live in a SolSmart (https://www.solsmart.org/) designated community, and we are looking for the right person to continue the great strides already made. The Project Manager position at The Solar Foundation will provide technical assistance to local governments pursuing designation in the U.S. Department of Energy-funded program. Our Project Managers are the public face of the SolSmart program – a strong focus on providing high-quality customer service is a must. Experience in providing consulting-type services to local governments is desired, particularly with respect to zoning and codes.
The Project Manager will work as part of a small, dynamic team to help communities reduce local barriers to the adoption of solar energy technologies. They will focus on permitting; planning, zoning, and development regulations; utility and community engagement; and market development and finance; as well as other federal, state, and local solar topics. The Project Manager will occasionally perform other duties as assigned to meet the needs of a small but influential national nonprofit organization.
Key Responsibilities:
Assist local governments to identify and implement programs and practices to increase their use of solar energy;
Facilitate meetings with local government officials and their stakeholders;
Develop new resources (e.g., white papers, fact sheets, presentations, tools) to help local governments learn from and replicate model practices and programs;
Provide research, writing, and coordination support for SolSmart and other projects at The Solar Foundation;
Help ensure proper reporting to comply with federal regulations.
Qualifications:
Candidates for this position will possess:
An undergraduate degree in public policy, economics, planning, local government management, public affairs, environmental studies, or other related or technical field;
2+ years of experience, preferably in municipal/regional government affairs, public affairs, the solar industry or other renewable energy;
Superb technical writing skills;
Strong interpersonal skills;
A commitment to providing high-quality customer service;
An ability to work independently as well as collaboratively (experience managing a small team is a plus);
The ability and willingness to travel to and effectively present at local, regional, and national meetings, conferences, and other events.
While not required, the most qualified candidates will possess:
An advanced degree in a relevant field (e.g., master's or equivalent);
Experience interpreting land use and zoning code language;
AICP certification;
Education or experience in engineering, feasibility analysis, solar project development, and/or resilience strategies involving renewable energy systems;
Prior CRM experience;
Extensive knowledge of local and regional planning and permitting processes; and
A demonstrated passion for solar or renewable energy.
Compensation:
The salary range for this position is $50,000 to $65,000 per year, commensurate with the candidate's experience and qualifications. The Solar Foundation provides its staff with a competitive benefits package including enrollment in a 401(k)-retirement plan with a capped employer match, health insurance, paid time off, transportation stipend, professional development funds, etc. This is a full-time position, and in accordance with the provisions of federal wage and hour laws, this position is classified as exempt, meaning this position will not be eligible for overtime pay. Employment at The Solar Foundation is at-will.
To Apply:
Please submit a cover letter and resume, as well as a writing sample, to Lauren Seibert at lseibert(at)solarfound.org with the subject line "SolSmart Project Manager". Position is available immediately and will remain open until filled. Preference will be given to applications received by August 16, 2019.
About The Solar Foundation:
The Solar Foundation® is an independent 501(c)(3) nonprofit organization whose mission is to accelerate adoption of the world's most abundant energy source. Through our leadership, research, and capacity building, we create transformative solutions to achieve a prosperous future in which solar and solar-compatible technologies are integrated into all aspects of our lives. The Solar Foundation is considered the premier research organization on the solar labor workforce, employer trends, and the economic impacts of solar. Visit us at TheSolarFoundation.org.
The Solar Foundation is an equal opportunity employer and does not discriminate against any employee or applicant on the basis of age, color, disability, gender, national origin, race, religion, sexual orientation, veteran status, or any classification protected by federal, state, or local law. In addition to federal law requirements, The Solar Foundation complies with applicable state and local laws governing nondiscrimination in employment in every location in which the company has facilities. This policy applies to all terms and conditions of employment, including recruiting, hiring, placement, promotion, termination, layoff, recall, transfer, leaves of absence, compensation and training.
Job Type: Full-time
Salary: $50,000.00 to $65,000.00 /year
Experience:
relevant: 2 years (Required)
project management: 2 years (Preferred)
Education:
Work Location:
Benefits:
Health insurance
Dental insurance
Vision insurance
Retirement plan
Paid
.