Columbia Bureau Chief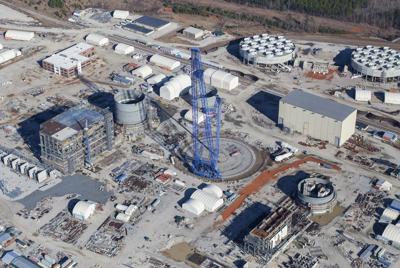 A consortium that includes domestic and foreign companies is interested in buying the two abandoned nuclear reactors in Fairfield County and finishing the project that once promised to usher in a new wave of clean energy in the country, a state lawmaker told The Post and Courier.
Consortium representatives visited the site 35 miles north of Columbia last month with leaders from state-owned utility Santee Cooper, the project owner, said state Sen. Larry Grooms, R-Charleston.
Grooms declined to name members of the consortium and would say only that it included U.S. and South Korean companies. He said the consortium has built 10 reactors worldwide in the past decade and wants to become the main reactor builder in the United States.
Santee Cooper would not put in more money into the partially built reactors, Grooms said. Santee Cooper and its partner at the time, S.C. Electric & Gas, spent $9 billion before abandoning the project nearly two years ago.
Santee Cooper said it had hosted several groups with "various interests" at the unfinished nuclear plant in recent months. The utility declined to comment on any specific visits.
Late Friday afternoon, Santee Cooper's legal committee scheduled a closed-door meeting in Pinopolis for 11 a.m. Monday morning. The agenda includes the discussion of "contractual arrangements relating to" the two unfinished reactors at the Jenkinsville site.
Some state leaders cast doubts about the offer to buy the V.C. Summer reactors that were estimated to cost more than $20 billion to complete.
Senate Finance Chairman Hugh Leatherman, a powerful Florence Republican who helps navigate major economic development deals through the Legislature, has not met with consortium representatives and knows little about their interest in V.C. Summer, his spokesman said.
Senate Majority Leader Shane Massey, R-Edgefield, said he met briefly with consortium representatives last month but got few details.
"I don't know if they're legitimate or not," Massey said. "There are a lot of questions."
Gov. Henry McMaster's office said hurdles, including Santee Cooper already releasing its nuclear licenses and a federal lawsuit by project contractor Westinghouse over unpaid equipment, are deal killers.
"Any proposal to purchase the site and restart construction is wholly unrealistic at this point," said Brian Symmes, a spokesman for the governor.
Senate President Harvey Peeler, R-Gaffney, said he also met briefly with the potential nuclear project suitors last month, but questioned if they arrived too late since lawmakers have decided to look for buyers for Santee Cooper.
The Senate voted overwhelmingly Thursday, 42-1, to seek a new owner or manager for Santee Cooper after a lengthy filibuster by Grooms.
The House also approved selling Santee Cooper. Differences in the two bills need to be hammered out before legislation seeking buyers reaches the governor's desk.
Grooms, whose district includes Santee Cooper's Berkeley County headquarters, has been the biggest defender of not selling the utility. The state-owned power company's supporters fear rates will rise for 179,000 direct customers and 789,000 customers with the state's 20 electric cooperatives under new ownership.
However, McMaster and many legislators want to sell the Moncks Corner utility weighed down by more than $7 billion in debt — $4 billion of which comes from the nuclear work. Accusations have lobbed in recent months about mismanagement and excessive spending at the state agency. Bond investors are suing.
Grooms said the consortium sees an opportunity to succeed at V.C. Summer.
About one-third of the work on adding two reactors was completed when Santee Cooper and SCE&G abandoned the project plagued by lengthy construction delays, mismanagement and spiraling cost estimates over a decade. More than 90 percent of the equipment and supplies neededto complete the project is on site.
Santee Cooper took ownership of the partially built V.C. Summer nuclear reactors and leftover equipment after SCE&G's parent SCANA Corp. chose to write off its losses. SCANA, hobbled by the massive failure, was bought by Virginia-based Dominion Energy this year.
The consortium would face an obstacle that foreign companies cannot receive a nuclear license, according to federal regulations.
Santee Cooper could remain the majority owner of the reactors since the consortium with its foreign ownership cannot get the nuclear licenses, Grooms said.
Another utility that already has a nuclear license, such as Dominion, Southern Company or Duke Energy — South Carolina's largest utility — could manage the reactors, he said.
"It's hard to believe that after $9 billion is spent there is no value out there," Grooms said.