Author: Drew Birschach          Published: 10/7/2020                  ILSR
Florida has been hard hit by the climate change-fueled growth of hurricane season over recent decades. Despite the pressures of disastrous weather and the complications of living in a landlocked part of the state, Gainesville, Fla. leads the way to net zero emissions and 100% renewable energy.
In this episode of our Voices of 100% series of the Local Energy Rules Podcast, host John Farrell speaks with Adrian Hayes-Santos, city commissioner of Gainesville, Fla., and Bob Tancig, a local climate advocate working with Citizens Climate Lobby, NAACP, and more. They discuss the city's efforts to reach net zero greenhouse gas emissions by 2045 and their efforts towards 100% renewable municipal energy.
Listen to the full episode and explore more resources below — including a transcript and summary of the conversation.
Podcast (localenergyrules): Play in new window | Download | Embed
Subscribe: Apple Podcasts | Android | Stitcher | RSS
---
Gainesville Jumps into Renewable Energy
In 2018, Gainesville's City Commission resolved to reach 100% renewable electricity and net zero emissions community-wide by 2045. The city's commitment includes more than 100 city vehicles planned for electrification. The commitment came after significant compromise between many groups.
Hayes-Santos says that their community sees both sides of the energy coin. A decade ago, Gainesville was one of the first cities in Florida to implement a solar feed-in tariff, yet the landlocked city has few means to produce wind power.
"We're called the swamp because it feels like a swamp. A lot of times we just have no wind at all," says Hayes-Santos.
Other renewable energy efforts include the city's biomass farm burning waste wood that would otherwise be left to rot, solar power accompanied by battery packs, and tying into potential wind power from the city's onshore neighbors. Florida has yet to tap into gulfstream winds.
---
Florida is one of three states unable to meet its energy needs with a combination of in-state wind, hydro, and rooftop solar. Read more in the third edition of Energy Self-Reliant States.
---
Despite those efforts, the city still relies on gas and coal for two-thirds of its electricity. The slow transition is surprising, since the electricity provider, Gainesville Regional Utilities, is municipally owned. However, there is a disconnect between the city's goals and the utility's intentions, says Hayes-Santos.
Recent personnel changes have built hope for the pursuit of Gainesville's 100% goal, but Tancig says there's a long way to go. Part of that stems from past disagreements between the city commission and the utility, but both Tancig and Hayes-Santos remain confident that those elected will represent the city well.
One of the major things that the utility's head had to work on is changing the culture within the utility to be receptive, to going to a hundred percent renewable because theirs has been a culture of 'we're a coal and gas kind of place.'

– Adrian Hayes-Santos
Part of Gainesville's pursuit of 100% renewable energy includes a citizen advisory committee to the city and county commissioners. The committee  opens communication between the community's needs and those with the power to make the changes.
Neighbors hope that there will be a bigger push toward solar and supporting new technology.
A Focus on Community Wellbeing
Tancig mentions that the climate coalition in Gainesville was first organized by the city's NAACP chapter and that its leadership has secured a representative view of the community's needs.
The city is focused on advancing equity, Hayes-Santos explains. They continue to seek to overcome historic gaps in education and income, among other inequalities. At the time of recording, Hayes-Santos was expecting an ordinance addressing housing issues in the city and rental housing safety to go through the commission.
One of the issues that renters in any community may see, Hayes-Santos says, are landlords that don't invest in energy efficiency. Renters are usually responsible for utility costs, but don't have the ability to make efficiency upgrades without impacting the lease.
An important part of minimizing the energy use of the city is to monitor predatory landlords. Property inspections, says Tancig, help to ensure that property owners maintain efficiency goals.
Plotting a Path to 100% Renewable
To other cities thinking about setting renewable energy goals, Hayes-Santos says to work within the community, find groups already concerned about similar issues, and collaborate. Tancig echoes this sentiment, saying that constant pressure is the only way to get changes. He also says anyone involved must have an eye on the end goal and an eye on the road ahead.
A goal without a plan is just a wish. We have to be working continually to educate the community, to build stronger coalitions and to stay on it.

– Bob Tancig
Hayes-Santos mentions the importance of having the local government support the cause.  When tracking a path to 100% renewable energy, he says that flexibility is very important too.
"If you're putting together a plan, it's not going to be exactly what's going to get you to that point. It's going to change over time," Hayes-Santos stresses, it's okay to readjust.
---
Episode Notes
See these resources for more behind the story:
For concrete examples of how cities can take action toward gaining more control over their clean energy future, explore ILSR's Community Power Toolkit.
---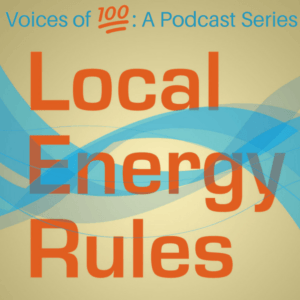 This is the 25th episode of our special  Voices of 

 series, and episode 114 of Local Energy Rules, an ILSR podcast with Energy Democracy Director John Farrell, which shares powerful stories of successful local renewable energy and exposes the policy and practical barriers to its expansion.
Local Energy Rules is Produced by ILSR's John Farrell and Maria McCoy. Audio engineering by Drew Birschbach.