Author: Wells Fargo Stories             Published: 4/22/2021     Wells Fargo Stories
A recently announced collaboration with Duke Energy and NextEra Energy Resources represents another step in Wells Fargo's goal to achieve net zero greenhouse gas emissions by 2050.
As Wells Fargo continues to ramp up efforts to respond to our planet's climate crisis, the company has announced another major solar expansion, this time with our North Carolina neighbor Duke Energy. Under a 20-year renewable energy purchase agreement, Wells Fargo will receive 100% of the output from a planned 600-acre solar farm in Catawba County. The project will supply more than 50% of Wells Fargo's electricity needs in North Carolina and approximately 8% of the company's annual global electricity requirements when it comes online in 2022.
Developer NextEra Energy Resources is working with community leaders and organizations to ensure the project meets local solar development requirements, as well as Wells Fargo's needs. As part of the development, NextEra Energy Resources is negotiating a land grant with the Catawba Lands Conservancy to conserve lands along the Catawba River and expand a portion of the Carolina Thread Trail. According to the project website, other community economic benefits include approximately $2.3 million in additional tax revenue for the local community as well as local employment opportunities, including up to 100 jobs to construct the project.
"Leveraging our annual energy spend to advance green infrastructure development in the U.S. and create new revenue streams for communities is one way we are helping contribute to more sustainable, equitable, and resilient communities," said Richard Henderson, head of Wells Fargo's Corporate Properties Group. "We will continue to look for opportunities to advance environmental and social sustainability through our operations as Wells Fargo drives toward its ambitious climate goals."
Our commitment to advancing clean energy
Wells Fargo has met 100% of its annual global electricity requirements with renewable energy since 2017, primarily through the purchase of renewable energy certificates, which satisfied the first part of a two-pronged 2020 renewable energy goal set in 2016. The company is now working to fulfill the second part of that commitment — to transition to a higher mix of long-term renewable energy contracts for projects near its greatest load centers and significantly expand on-site solar generation in order to support the development of net-new sources of renewable energy and deliver community benefits associated with renewable energy development. In March, Wells Fargo announced its goal to achieve net zero greenhouse gas emissions by 2050, including its financed emissions.
Earlier this year, Wells Fargo announced a deal with Ameresco, Inc. to install approximately 30 megawatts of new, on-site solar generation assets at more than 80 corporate and retail locations in seven states.
Aside from being one of the largest corporate users of renewable energy, Wells Fargo is a leader in financing large-scale wind, solar, and other renewable energy projects on behalf of its customers. The company recently reached the milestone of providing $10 billion in tax equity financing for utility-scale renewable energy projects. Since 2005, Wells Fargo has helped finance 13% of all wind and solar energy capacity in the U.S.
Recommended Stories
---
Standing with Asian American and Pacific Islander communities
CEO Charlie Scharf condemns recent violence and xenophobia; pledges continued support for diversity, equity, and inclusion.
---
A tailor-made grant helps continue a family legacy
JC Lofton Tailors is continuing a family legacy that has been around for almost a century, with the help of a $10,000 grant from Wells Fargo through Local Initiatives Support Corporation.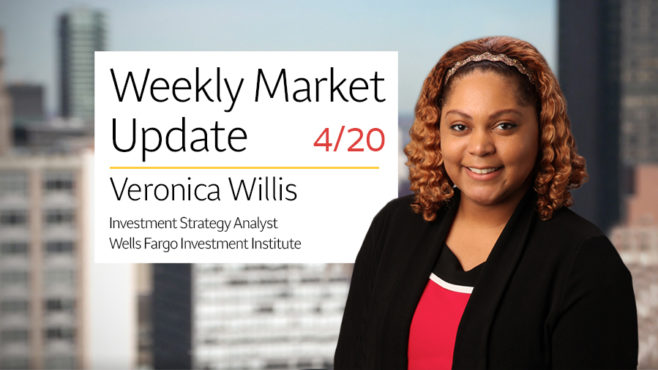 ---
Market perspectives from Wells Fargo Investment Institute
April 20, 2021: "Economic activity is strengthening and the labor and housing markets are really strong, which continues to provide support for the market." In this market update, Veronica Willis, investment strategy analyst for Wells Fargo Investment Institute, discusses the latest economic data, the value of the U.S. dollar, and the influence of stimulus money.